Cooking with Cannabis: THC Truffles
Who doesn't love a homemade truffle? This tasty treat is even better with THC! Our Fine Fettle chef Hannah will be teaching you how to make the perfect infused truffle in 5 easy steps. Who's ready to get cooking?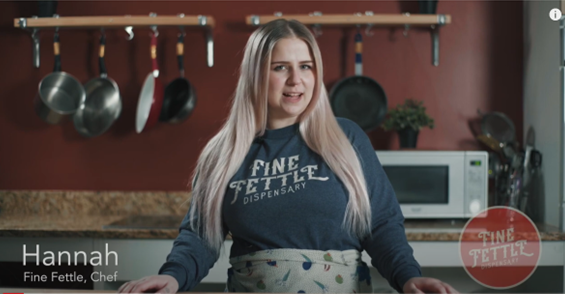 Ingredients:
3 oz milk chocolate
1 oz bittersweet chocolate
4 oz. white chocolate (for matcha truffles)
7g TBS
1 oz heavy cream
Pinch of salt
Cocoa powder
Matcha powder
Directions:
Combine the cream, butter and chocolate in a heat-safe bowl, and melt gently in the microwave or over a double boiler.
Once the mixture is smooth, stir in your salt and any flavor additions (extract, matcha powder), and mix until combined.
Add in your activated syringe, using as much or as little as you desire for dosing, and mix thoroughly with the rest of the ingredients.
Chill the chocolate ganache in the fridge until fully set, then scoop your truffles and roll them until they are a ball shape in your hands. For the most accurate dosing, you can use a scale to measure out your truffles (divide the total weight of the mixture by however many truffles you want, and that is how much each truffle should weigh).
Once your truffles are shaped, roll them in cocoa powder (or matcha powder), and enjoy responsibly
Ask your local budtender / pharmacist for recommendations on the best products to cook with!  We are always happy to give you the low down for your kitchen experiments. You can also shop extracts and tinctures on our online menu anytime. Select your dispensary and scroll down to find the Extracts category.