Cooking with Cannabis: Mac & Cheese
Deliciously rich and gooey, this baked Mac & Cheese is cheesy perfection for the holidays. Heighten your favorite comfort food with THC butter and this amazing recipe from our Fine Fettle Chef, Hannah. This is THE Macaroni Cheese recipe that's wildly popular every Thanksgiving and Christmas!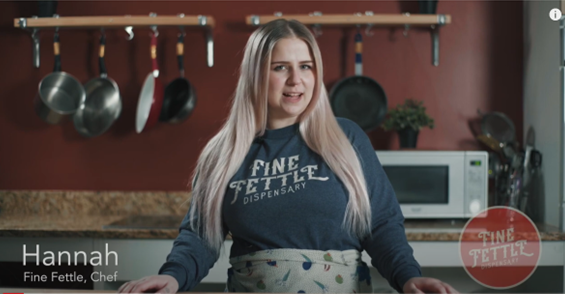 Ingredients:
2 cups milk or 1 cup milk, 1 cup cream
2 tablespoons cannabutter (you can also experiment with 3-4 tbs)
2 tablespoons all-purpose flour
1⁄2 teaspoon salt
10 oz block extra sharp cheddar cheese, shredded (you can also do a mix of half cheddar, half gruyere)
1 garlic clove
1 bay leaf
1 sprig rosemary
1⁄2 package elbow macaroni, cooked (you can also use the full package to make a larger batch). Pasta shells are also fine.
Parmesan cheese
Salt and pepper
Parsley for topping
Directions:
Melt the butter & add flour and cook for a few minutes. Add the aromatics (garlic, bay leaf, rosemary) and add the milk/cream & stir until thick. Once thickened, remove the aromatics.
Add roughly 1/2 the cheese & whisk until smooth, and add the mustard powder. Add salt and pepper to taste.
Add the pasta (cooked 1 minute shy of done) and stir until combined.
Grease an 8" pan with butter and coat with parmesan cheese.
Add 1/2 of the pasta & layer with remaining cheese, alternating so you finish the top with the remaining cheese.
Bake in a 350 oven for about 15 mins, then broil until bubbly & golden brown.
Top with fresh parsley right out of the oven.
Ask your local budtender / pharmacist for recommendations on the best products to cook with! We are always happy to give you the low down for your kitchen experiments. You can also shop extracts and tinctures on our online menu anytime. Select your dispensary and scroll down to find the Extracts category.